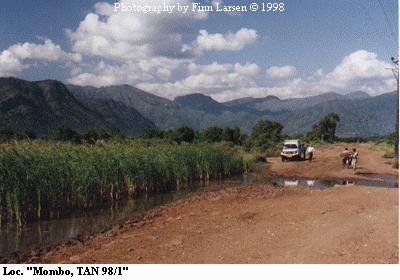 ---
During the Belgium (AKFB) exhibition in Marcinelle in spring 1997, Mike Agnew and John Rosenstock decided that now it was their turn for a collecting trip to Tanzania. Back in Denmark John asked whether I would like to join them on such a trip. After some thoughts- mostly economic of course, as I have wished for a long time to take on such a trip – I said yes. Later Brian Watters also joined. After many conversations on the telephone and some overseas communication via email, we finished the various preparations to the trip.
Finally Saturday morning 16. May 1998 Brian Watters, Mike Agnew and I met in Schiphol airport in Amsterdam. Together we flew with KLM to Kilimanjaro airport in the northern Tanzania near Arusha.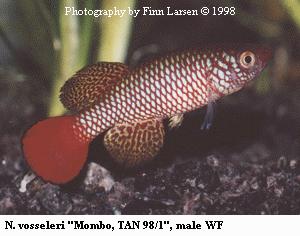 Sunday morning after one night on hotel Mountain Village - just outside Arusha - we went to Mellemfolkeligt Samvirke (MS), Danish Association for International Co-operation, trainingcenter in Tanzania (MS TCDC), east of Arusha to meet John Rosenstock. He had been in Zambia the last two weeks (official journey) and arrived also in Tanzania Saturday May 16.
Our plan was to hire a car at MS TCDC. Due to misunderstandings the driver had a day off on Sunday and would not arrive before Sunday night. Therefore we used the day for planning our trip. Because of "El Nino" it has been raining a lot in the entire East-Africa; bridges and roads were washed away. An experience we had many times later on.
On Monday May 18. we took in supplies in Arusha and then we started chasing Nothobranchius.
The first days we spent in the north-eastern part of Tanzania - mainly in the area around Arusha and with trips into the Masai steppe. We also visited the "Manyara" locality. In spite of persistent fishing on many promising places we did not catch any Nothobranchius. On the "Manyara" locality we caught barbs and cichlids - species that neither Brian nor John had caught at that place before. But no Nothobranchius. Brian thought that the Nothobranchius simply were washed away because of too much rain.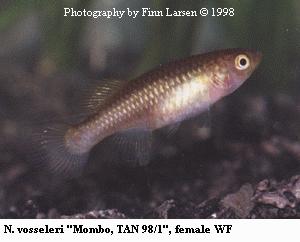 At two places in the area we visited offices for a Masai organization. At both places the people were very hospitable and very interested in what those "Mzungu" (europeans) were doing. The Masais knew where the fish were but either the localities were too far away or they were impossible to reach because of too much water. Not even with a Masai as guide did we find any Nothobranchius.
Thursday May 18. we reached Mombo. We were told that the road to the airport was washed away but nevertheless we reached the place that probably is the typelocality of N. vosseleri. At last we caught our first Nothobranchius.
N. vosseleri "Mombo, TAN 98/1". Apperently, there were a lot of fish and soon we had caught all the fishes we needed.
On the way along, we stopped at the "Mombo, TAN 95/19" locality south of Mombo to take a GPS-position; we did not go fishing.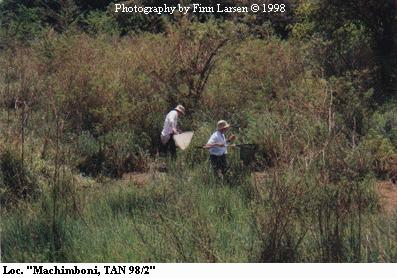 Then we went to Tanga where we decided to stay for the next two nights.
The following day was dedicated to the search for Nothobranchius on the Umbra steppe north-west of Tanga. Already on the outskirts of Tanga, Brian would fish in some small ponds close to a river. In 1995 Brian, Ian Sainthouse and Ruud Wildekamp had caught Pantanodon podoxys in this locality. Immediately some local people hastened to the spot. They pointed on the water surface and said "Mombo, mombo". Our driver told us that it meant 'crocodile'. After all we did not see the crocodile and unfortunately neither some Pantanodon podoxys. However, Brian caught some glasperches.
North-west of Tanga near Machimboni we caught Nothobranchius again - this time N. melanospilus and N. palmqvisti. Unfortunately the N. palmqvisti's were in a bad condition and looked ill. Later on we lost most of them and out of 12 couples only one male and three females were alive when we left Tanzania. Luckily we had more success with the N. melanospilus from this locality - and moreover with the fish from all other localities. This locality got the name "Machimboni, TAN 98/2".
Unfortunately, we could not cross the Umba river, again because of too much water. Therefore we had to return along the same road to Tanga.